Reginald J Cheetham Collection of Militaria, Scientific Instruments & Curios goes off with a bang!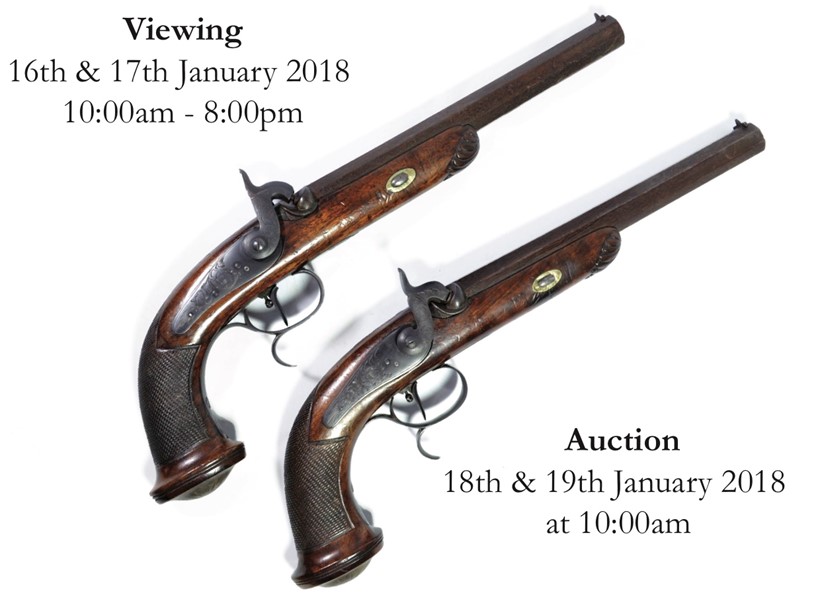 January 2018 saw Adam Partridge conduct the landmark sale of the Reginal J Cheetham Collection. Mr Cheetham was a collector with a passion for history, antiques, scientific instruments and militaria. He was born in Prescot Merseyside in 1924 and, working as an engineer, he developed many interests such as flying including aeronautics and radio communication, cycling including penny farthings and high wheelers, and telescopes which led to him writing a guide to "Old Telescopes" which was published in 1997.

The two day, 1696 lot, sale included over 500 lots of guns and shooting related items, about 230 swords, 140 lots of bayonets, knives, daggers and other bladed weapons, including a small collection of sword sticks. There were 300 lots of telescopes, periscopes and binoculars and further sections of medals, helmets and other military equipment, scientific instruments and microscopes, watches and clocks, classic Anglepoise and other lighting, toys, and many other interesting and quirky items all housed at his death in 2016 in a small house in Liverpool. The items were spread over the house with much of the radio equipment and collectables found in the attic and the shed.

All the estimates for the items were kept low and the sale was entirely without reserve, meaning that all the items would be sold. As we had anticipated a lot of interest, the catalogue was produced earlier than usual to give plenty of time for bidders to view the items and we supplied a huge number of detailed condition reports for bidders who could not attend the saleroom. This expectation was justified as we had 1327 online bidders, 314 commission bids were left with us and 212 bidders were in the saleroom and on the telephones.

The prices achieved were generally surprisingly high. The highest prices in the sale were £7,200 and £7,000 achieved by a Tower flintlock saddle ring carbine and a similar Tower flintlock pistol. An amazing 18th century stone bow by Mortimer of London, which included an engraving depicting an archer with a hound by his side made £3,400. Of the "shed finds" a Brequet telephone transmitter and receiver made £2,800 and a World War II Air Ministry receiver made £2,600. The watch and clock section was not large at about 50 lots but contained a surprise when a lantern clock, which was mostly 17th century but to which Reg had added new brass work and finials, attracted a number of telephone bidders and achieved £5,000. Many of the telescopes had been used by Reg in writing his book and some had been adapted but they mostly achieved good prices, with the hammer falling at £680 for a 1780 James Short of London travelling telescope.

Reg Cheetham was a knowledgeable and resourceful collector, who was well able to restore items in his collection with home-made repairs and additions. Whilst at times this made cataloguing the collection a challenge we hope that Reg would have approved of and enjoyed the sale as much as we did.