PETER COLLINGWOOD, MASTER WEAVER
Following the success of the first Studio Ceramic auction of the year, one of the highlights from the auction was Peter Collingwood's cream and black Macrogauze hanging, M.143 No. 53 selling for £12,000. Two tenacious bidders, one online and one on a phone line, battled it out for the piece providing an exciting finale to the sale.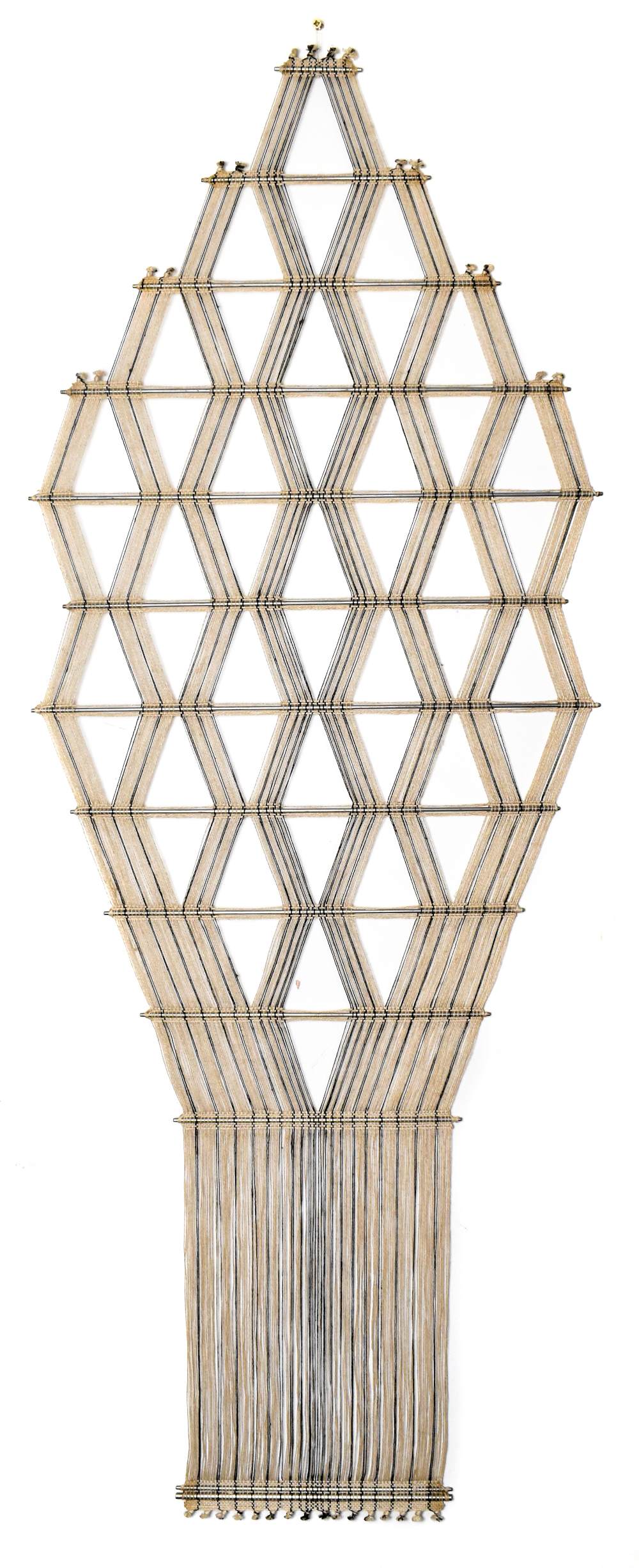 For a textile to become a design classic requires a master weaver and Peter Collingwood was such a one. Born in 1922, Peter Collingwood originally studied to be a medical doctor and stories circulate that he began weaving when he dismantled a loom used for occupational therapy to find out how it worked and that he fashioned a loom from deckchair frames whilst performing his national service.
With all great artists it is vital to learn fundamental orthodox practice before one can experiment and Collingwood trained at the Ditchling workshop of master weaver Ethel Mairet, and worked with other prominent weavers. By 1952 Collingwood's Archway workshop was producing rugs which he sold at Liberty and Heals and he exhibited his weaving whilst continuing to work a day a week at art schools. In 1958 Collingwood was one of the first fellows at the Digswell Arts Trust. He worked alongside John Mills, the sculptor, John Brunsdon, the printmaker and Hans Coper, the potter with whom he had a joint exhibition at the V&A in 1969. He moved to Nayland near Colchester in the mid1960s where he worked up to his death in 2008. He wrote five books on weaving including the seminal Techniques of Rug Weaving in 1986, and was appointed OBE in 1974.
His weaving, although starting along more conventional lines with rugs and scarves, eventually became highly distinctive and innovative, resulting from experimental weaving techniques. He devised Shaft Switching to develop a quicker technique of weaving and also Anglefells where the weft is at an angle, or not tamped down, to create a very different result from the usual compactness of standard weaving.
As Collingwood became more proficient, more confident in his ideas and more interested in improvisation, he developed his signature Macrogauze wall hangings for which he became world famous from the 1960s onwards.  In these, a technique was used whereby the warp threads are spaced and criss-crossed into intricate geometric patterns, instead of parallel vertical lines. Sections of the warps were enabled to cross over each other and move sideways by specialist weaving equipment that Collingwood made himself. The shape of the hanging was fixed by metal rods reinforcing the sparse weft threads.
Although Collingwood's hangings are instantly recognisable, a signature on a textile piece is not possible, so he attached a metal strip to each piece bearing his signature, the design identification number and the edition/production number within that design.
Textiles are notorious for their fragility and potential damage by light and by handling. Collingwood's Macrogauzes are delicate but deceptively robust and many still come to the market over 50 years after their creation. We have sold several other pieces in our Studio Ceramic and Design sales, not least in the prestigious Firth Collection sale in 2015 where we offered six Macrogauze hangings which achieved a combined hammer price of £41,400. His work has stood the test of time and is well able to sit alongside the best artists, sculptors and potters of his era.