Hibernal Highlights Under the Hammer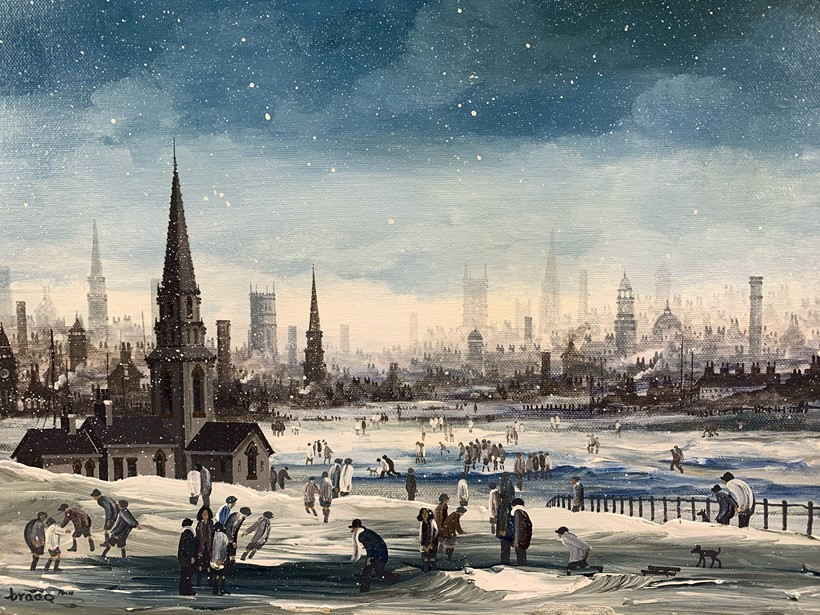 The festive season may be over but there is still plenty to celebrate here at Adam Partridge with a selection of wonderful winter themed lots coming up for auction in the near future which we are delighted to preview.
Our 21st and 22nd January Militaria sale will feature two very rare scientific exploration awards, the Second Arctic and Polar medals.  The Arctic Medal was awarded to intrepid adventurers who took part in the British Arctic Expedition of 1875-76 with the aim of reaching the North Pole; while unsuccessful in this endeavour, the 155 strong party made significant contributions to the mapping of Greenland before being trapped by ice over the winter, only escaping in August 1876, over a year after their departure.
The Polar Medal comes with four clasps for 'Antarctic 1907-09', '1910-12', '1914-16' and '1917' which may well connect it with Ernest Shackleton's Nimrod Expedition, Mawson's Australasian Expedition, Shackleton's Trans-Antarctic Expedition and the Aurora Antarctic Relief Expedition; the heroism of these endeavours sends chills down the spine, even if these are proof issues as is possible.
Our next offering is an evocative snowy Liverpool landscape by the enigmatic artist Brian Shields aka Braaq (1951-1997).  Depicting an icy Newsham Park with the cityscape in the background, this oil on canvas is a fantastic offering from an enigmatic Northern artist whose star has consistently been on the rise over the past decade with this trend set to continue in 2021; the only 'January Blues' here are the delicate hues Braaq uses to capture the chill of a wintry day on Merseyside.
Finally, while not as high value but just as interesting is 'Arctic Expeditions from British and Foreign Shores from the Earliest to the Expedition of 1875-76' by D. Murray Smith F.R.G.S.; the terrific gilt tooled cover is the first of a series of striking illustrations, engravings and maps including an encounter with a polar bear, hauling boats across frozen seas, the Lievely Harbour of the terrifically named Disco Island and more.  By a rather striking coincidence the volume discusses the very expedition that the Second Arctic Medal mentioned above was awarded for – perhaps these two winter wonders are destined for the same home.  We end with the words of Murray Smith which capture the enduring fascination man has for these wintry wastes at the end of the world: '[...] to record the stirring adventures, disastrous reverses, triumphant successes, and deeds of heroic courage and perseverance, in the very face of death under a hundred forms at once, for which the annals of Arctic discovery are illustrious – that is the purpose of the present work.'